Paul Shanklin is the Rush Limbaugh show's "Man of Many Voices".

His impressions of Bill Clinton , John F. Kerry, Al Gore, George W. Bush, John Edwards, Barack Obama and many others are heard nationwide by an audience of over 20 million.
"He's a small army...no, make that a medium-sized army ...of character voices. And he's a very funny guy." Stan Freberg
Paul Shanklin's political satire has been a staple on Rush Limbaugh since 1993. His political humor skits and songs parodying President Clinton and others have become favorites of the Rush Limbaugh listeners. Over the years, Paul has written and produced over 1300 song parodies, skits and spoof commercials for the show, and has released ten successful albums. His career in talk radio political humor began in an unlikely place: the Oldies 98/Turner Dairy "Do Your Moo" booth at the Mid-South Fair in Paul's hometown of Memphis, TN in the fall of '92. It was there that Paul's Ross Perot impression lead to regular appearances on Bill Young's popular morning show on Oldies 98, and later with Andy Montgomery on KIX-106. In May of '93 Shanklin sent three demo tapes to Johnny Donovan with the Rush Limbaugh Show . After getting no response, Paul's friend, political cartoonist Mike Ramirez, suggested he call Donovan as Bill Clinton. As Clinton, he told Donovan, "I don't feel Rush and I are as close as we used to be. Can you work things out between me and Rush? I don't think we're really that far apart on the issues." Donovan liked the impression, asked for a demo tape, and national exposure followed.
---
Outside of his conservative political humor on the The Rush Limbaugh show, Paul's a voice talent for commercials, and travels the country performing his political comedy routine. National television appearances include C-Span, Fox News Network's Hannity and Colmes, and The O'Reilly Factor. Paul is the recipient of the "Pollie" Award for the Best National Political Ad, and was featured in the book Rush To Us by D. Howard King and Geoffrey Morris.

For booking information call Paul's publicist, Valerie (916) 287-1192 .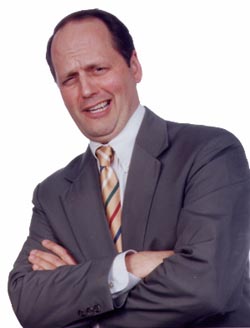 Political Humorist - Paul Shanklin